Última visita
hace 1 día
• Se unió
hace 5 años
• 16,135 hits (5,492)
Acerca de mí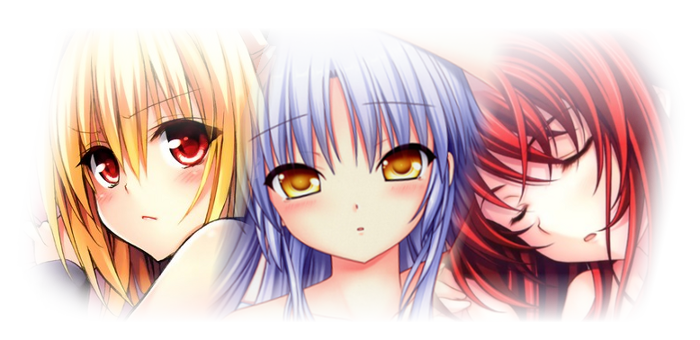 。*:☆(´• ω •`)八(´• ω •`)ノ Namaste and welcome!(´• ω •`)八(´• ω •`)ノ☆:*。

As one can see, my

harem

collection is still expanding as I'm trying to complete certain themes. I tend to gravitate toward those themes, mostly collecting characters I connected to and love. This harecolle (pardon my lousy pun) is centered around scaled figures and dakimakura covers.

I have a certain dream of becoming a harem king surrounded by my lovely waifus (´ω`♡).

Thus far, I've been amassing old releases that I missed during my hiatus as well as targeting new ones to add to my collection.

This hobby of mine started a decade ago and was greatly influenced by my friend, who also happened to be a figure collector. It was on the same day as I attended my first anime convention. I never expected to become a collector back then but with my ever growing interest in anime, it was only a matter of time. I acquired a small number of figures and goodies but had to stop collecting due to various reasons. Time had tempered my passion and I thought I was done with collecting. Then came the day I discovered a reissue edition of Tenshi as sort of commemorating the "1st beat" PC game released. It was so simplistic yet magnificent that something sparked in me. In just four months, my collection had quadrupled ( ̄▽ ̄*)ゞ!! Oh my poor poor wallet (っ´ω`)ノ(╥ω╥)...

And so my renewed passion has set me on a new journey. Only time can tell how far and big my

harem

collection will be. Hopefully it does not get to the point of me getting overwhelmed. Self-control and moderation in everything! Feel free to message me (´ω`)ノ゙



ε=ε=ε=┌(; ̄▽ ̄)┘ε=ε=ε=┌(; ̄▽ ̄)┘ヽ( ̄д ̄;)ノ=3=3=3ヽ( ̄д ̄;)ノ=3=3=3



I'm selling some of my spare stuff, please do check out MY SHOP. All of my figures were bought in reputable shops, such as Amiami, Hobby Search, Hobby Link Japan, Tokyo Otaku Mode. No bootlegs, just authentic! I will provide proof of authenticity such as receipts and pictures of the item if available upon request. Also, the ones I'm selling are either sealed in box or stored in box and never displayed. In the case of opened boxes, it is for checking factory defects and quality inspection. I prefer

verified Paypal

account owners with

verified address

. And please no scammers. I only deal with trusted buyer. All shipments will be insured, tracked, carefully packed and be processed in 3 to 5 business days as soon as payment is received. Shipping times are from Monday thru Friday. Any additional charges like import duties, taxes, charges and other fees are solely

responsibility of the buyer

. In the event of damaged item during shipment, please inform me

within 3 days

upon receiving the item and provide "proof of damage" documentation so I can file for insurance claim. As such, the buyer will be refunded the original amount excluding shipping and miscellaneous fees, i.e. Paypal. Damaged item will be asked to be sent back to me first before refund and return shipping is paid by the buyer. Other than that reason, no refund or exchange and no returns accepted. Product is sold as is and all sales are final. Please bear with me if I cannot reply to private messages immediately but will try my best to accommodate as soon as possible. Thank you very much.



Acerca de
Serie(s)
All sorts of anime
Juego(s)
SMT Persona, Chrono Cross